About Casey-Bertram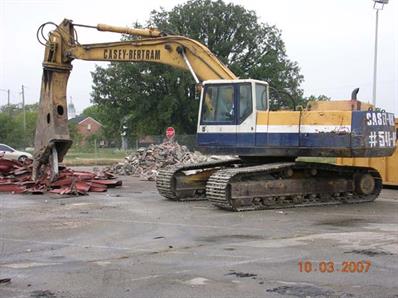 With 20 years of experience, Casey-Bertram Construction Inc. has become a leader in the Indiana demolition market. Serving both public and private sectors Casey-Bertram continues to become involved in all phases of complete and selective demolition, including commercial, industrial, and residential demolition services.
Casey-Bertram was started in 1993 by Scott Casey and Rodney Bertram. Scott is a graduate of the IU business school and has 25 years of construction experience. Scott handles many of the pre-project functions such as estimating, contracts, and planning.
Rodney Bertram has 20 years of experience and coordinates all field activities including permits, utility disconnects, safety, and project coordination. Rodney is regularly on the jobsite ensuring the project is proceeding to our client's expectations.
What sets Casey-Bertram apart from the rest is that both Scott and Rodney are directly involved from the office to the field from beginning to end in each demolition project. Our clients are always in direct contact to an owner that can make immediate decisions and stand by them.
Over the years, Casey-Bertram has earned an outstanding reputation for safety, prompt performance, and competitive pricing. Casey-Bertram is your best choice for full service commercial, industrial, and residential demolition services in Indiana.
Visit our Indianapolis headquarters or contact us for additional information or to discuss your project. When considering your project requirements, please consider using Casey-Bertram as your Indianapolis Demolition Company.