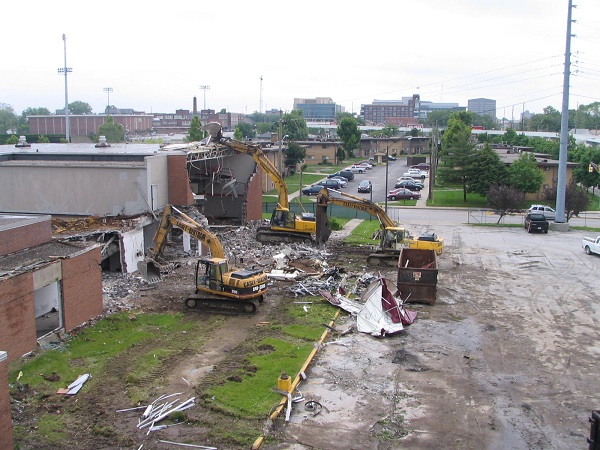 View Commercial Demolition Gallery
Casey-Bertram Construction prides itself in providing safe demolition and site restoration services. This includes planning, permits, environmental surveys, abatement, debris removal, and recycling. Casey-Bertram continually strives to help lower our client's costs through efficient demolition practices and recycling.
With a wide range of experience, no project is too difficult. We have become experts at extracting buildings from tight spaces. For you next demolition project, look to Casey-Bertram for a safe, cost effective, and successful project.
Commercial Demolition Portfolio
Our commercial demolition portfolio contains various types of demolition projects including:
Office building demolition
Grocery store demolition
Warehouse demolition
Shopping mall & strip center demolition
Hotel & motel demolition
School demolition
Church demolition
Restaurant demolition
Auto dealership demolition
Bowling alley demolition
Demolition Process and Activities
A lot goes into removing a commercial structure that many might not think about.
Pre-demolition asbestos inspections – almost all structures need to be inspected prior to start.
Utility retirement (water, gas, electric, phone). We contact and verify all for safety.
Utility locates prior to digging – "it's the law" Also known as "Call before you dig / Indiana 811"
IDEM notification prior to demolition
City permiting
Fuel and oil tanks
Foundation removal
Inspections
We handle the entire demolition process, from the beginning to the end, to give our customers peace of mind that the job was done correctly. For additional information about our commercial demolition experience or services, please contact us now.