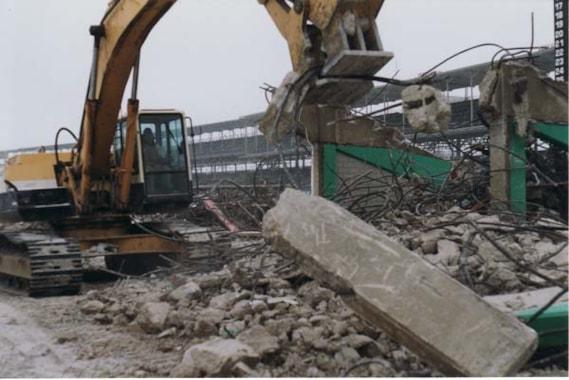 View Industrial Demolition Gallery
Industrial projects are some of the most complex in the industry with environments that require almost surgical precision.
Industrial projects require larger equipment and attachments to handle. Casey-Bertram owns and operates their own fleet of well maintained equipment with the attachments (shears, processors, hammers) to get them done. Casey-Bertram also has some of the most experienced operators in the area with 20 - 25 years of seat time.
Industrial projects often include only the removal of select structures inside of an existing facility. Casey-Bertram coordinates the planning phase for utility disconnects & rerouting, environmental inspections & notifications, structure separation, barricades, traffic control, etc. to ensure that the projects are completed safely.

Industrial Demolition Portfolio
Our Industrial demolition portfolio contains various types of demolition projects including:
Smokestack demolition
Silo demolition
Factory demolition
Racetrack demolition
Convention center demolition
Army base demolition
Grain facility demolition
Plant demolition
For additional information about our industrial demolition experience or services, please contact us now.