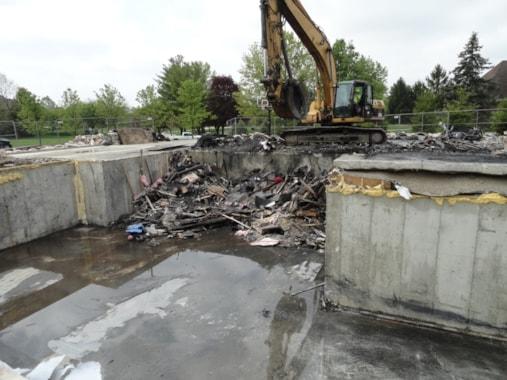 View Residential Demolition Gallery
Casey-Bertram handles the entire project from permit paperwork to completion. For you next house demolition or apartment demolition project, look to Casey-Bertram for a safe, cost effective and successful project.
Casey-Bertram Construction has over 20 years of residential home demolition and apartment demolition experience. Our demolition and wrecking experience includes removing houses, garages, farms, barns, innercity apartments, rural communities, and high end estates. Casey-Bertram has even removed entire neighborhoods (40+ houses).
Demolition Process and Activities
A lot goes into removing a simple structure that many might not think about.
Pre-demolition asbestos inspections – almost all structures need to be inspected prior to start.
Utility retirement (water, gas, electric, phone). We contact and verify all for safety.
Utility locates prior to digging – "it's the law" Also known as "Call before you dig / Indiana 811"
IDEM notification prior to demolition
City permitting
Septic tank pumping and removal
Well abandonment per state and county requirements
Fuel and oil tanks
Foundation removal
Inspections
Grading and seeding
We handle the entire process, paperwork, and documentation to give our customers peace of mind that it was done correctly and per city & state codes so they don't have any issues in the future. For additional information about our house demolition experience or services, please contact us now.